OOTD: Sunday Brunch
Ever so often I get the pleasure of a morning off and a chance to indulge in church and a delicious brunch (I work direct care on weekends). So, when the rare occasion presented itself, I decided to dress up just a bit.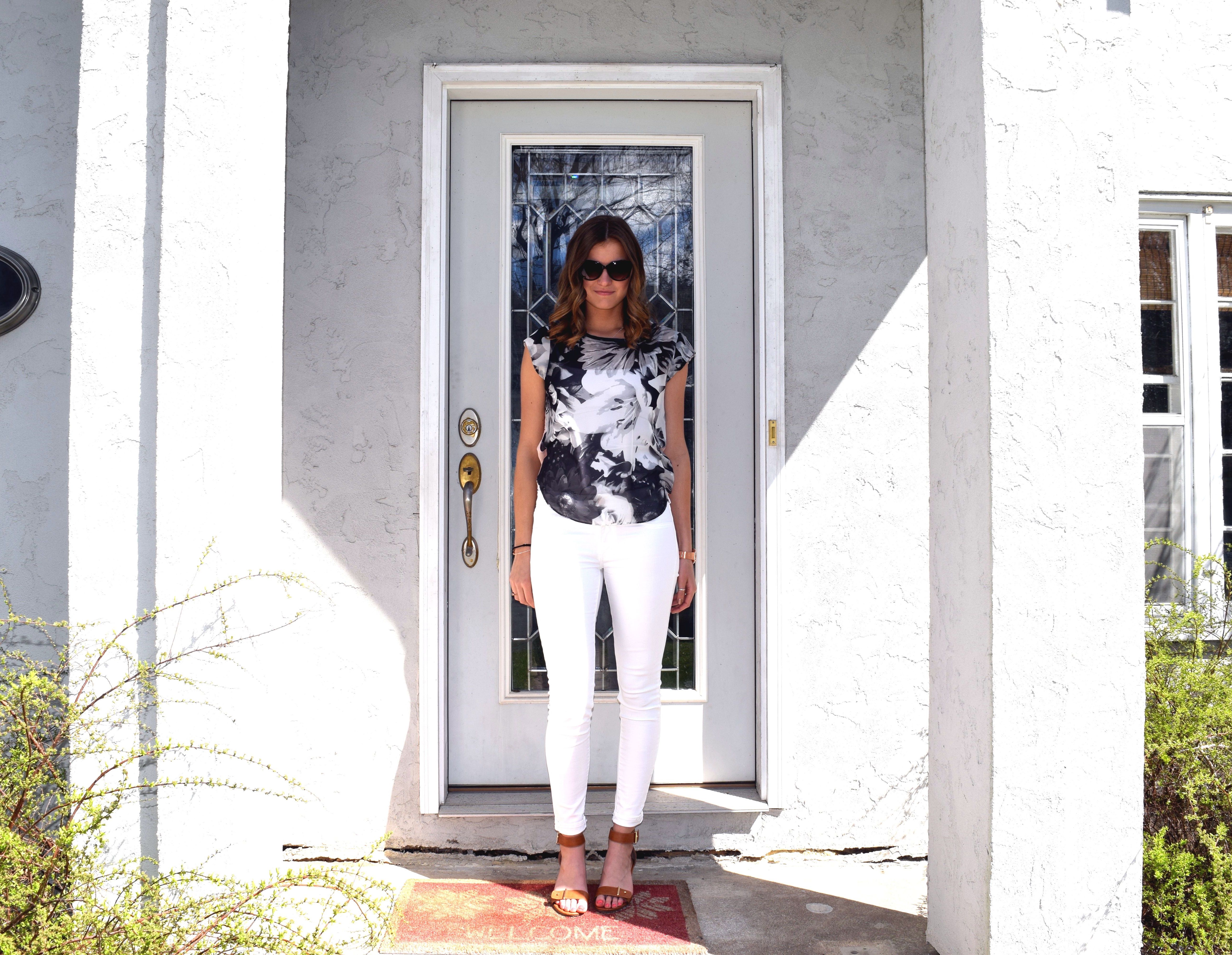 It was a bit breezy out so I decided to wear some white jeans and a nice blouse. In my opinion, white jeans are a must-have item for your wardrobe. They create a look that is clean and simple, making your outfit and style seem effortless (#goals). I originally purchased my blouse from American Eagle, and it has never let me down! It is flowy, yet fitted and I absolutely love the floral pattern. Not to mention, this shirt has a sheer blush back that brings it up to date with this year's trend. Unfortunately, it is a few years old so it isn't sold anymore :(. Now, every girl needs their accessories, this watch is one of my favorites, pair it with some simpler bracelets and you can't go wrong. Throw on a pair of heels, some shades, and your favorite bag and head on out that door because you're killin it!
Switch it up:
Now obviously this outfit can be dressed up or down. I would call this "dressy casual." Throw on a pair of flats, or even some sneakers and put your hair in a pony or bun and you have a more casual version. Throw on some ankle booties, a leather jacket and you have an edgier look. Throw on a blazer and some nice shoes and it's perfect for the professional work place. The options are endless!! No matter what, just have fun with it, make it true to you and your style!
More About My Day:
I went with my boyfriend's family to their church, and after some much needed time of praise, we headed downtown for brunch. Now, every weekend they go to brunch at the same place, it is a tradition to the point where they are known as regulars. Regulars to the point where the waitress already had drinks on the table by the time we all slid into the booth. I felt a little like royalty I won't lie haha! I was the only one who didn't have a regular order and had to take a significant amount of time to make a selection. I had an amazing Greek Omelet, with feta cheese, spinach, and olives, a side of hash browns, and some fruit (which has now become my "regular" order). After devouring our food, we walked around downtown for a bit and then headed back to the house for a little downtime.
Our weekends together are usually pretty relaxing! They have a great backyard with blooming gardens, and a hammock to sit and enjoy it all in. It creates a very tranquil environment to read a book, share some stories, and just get away from the regular work week (or the weekend in my case) as much as possible.
I'm curious, how would you style this outfit to make it true to you? Let me know in comments below!
*Disclaimer: This post may contain affiliate links*